It has been nearly two years since Florida's black voters mostly stayed home on election day and, in the eyes of some, gave Donald Trump a free pass to win the state and the White House. To Quiana Malone, it was a mistake that cannot be allowed to happen again.
Malone has been fired up for months about November's midterms, and after spending most of this year knocking on doors and speaking at community meetings around Florida for the African-American advocacy group Color of Change, she is convinced black voters have regained their enthusiasm.
"It's a moment of history for us, one of those things where you have a dream of something you want to achieve and see it can actually happen," Malone, 35, said after delivering a motivational speech to about 150 Color of Change supporters at a rally in Orlando.
"A lot of the people I've met are excited. I didn't know it would be such a fight, but now it's here, people are ready to go out and vote."
The moment of history that Malone believes will spark a revival in the black vote is in reality two moments. Firstly, there is the prospect of electing Tallahassee mayor Andrew Gillum as Florida's first black governor. Gillum, the surprise winner of the Democratic party's primary in the summer, leadsRepublican Ron DeSantis in a gubernatorial race that pollsters have recently switched from toss-up to "Leans Dem".
The second is an issue personal to Malone, a proposed amendment to Florida's constitution that would sweep away post-slavery era disenfranchisement of former felons and restore voting rights to those who served their sentences for crimes other than sexual offences or murder.
While about 1.6 million people, or one in 10 Florida citizens, are "felony disenfranchised" according to the Sentencing Project, the percentage of the African American population affected is significantly and disproportionately higher at 21.35%.
"You have people like me who have served their time, are transformed in every way and deserve their second chance. We are as much upstanding citizens as anybody else," said Malone, who was released from an 18-month sentence in 2009 for a crime she says she prefers not to discuss.
Since then she has turned her life around; she operates a not-for-profit to help released felons readjust to society and owns a catering company employing many of those she has assisted. She spoke of her experiences at the Orlando rally, hoping to inspire voters in a similar way.
"We've been talking to people nonstop, but there's still work to do before election day," she said.
Arisha Hatch, the managing director of campaigns for Color of Change, said direct contact was the key to reinvigorating black voters in Florida, who were uninspired by Hillary Clinton in 2016 and reflected a national slump in black and minority voting.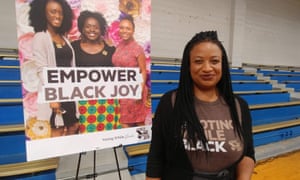 "We are focused on those considered to be non-voters, who might have voted once or twice for Barack Obama but are very disenchanted with politics and the type of people where campaigns and candidates never knock on their doors," she said.
"It's important these folks get the chance to know about what's at stake. We're at a moment of high political engagement across the country and lots of black voters who ordinarily would have sat out understand the importance of coming out in November."
It is why Color of Change rallies, often end with small groups of canvassers heading out into local neighborhoods.
"While all the signs point to a blue wave but also a black wave across the country, there's tons of work do and conversations with folks about why their vote matters," Hatch said. "Black voters can make the difference in a number of races and we are in a positive position because in Andrew Gillum we have a candidate who's not only reflective of our community but shares our values."
And if Florida's 1.8 million black registered voters were mostly turned off by Clinton two years ago, Hatch is certain they will be motivated by what they have heard since from Trump, who beat her in Florida by only 113,000 votes.
"We've seen a normalisation of this type of dangerous rhetoric directed towards not only black people but other people of color, and the policies that result when you have a president who uses divisive rhetoric for political gain," she said.
"Black folks, Latinos, Muslims, women, other people of color, are the ones that are harmed in their daily lives, whether it's just walking down the street, trying to shop for something, or selling lemonade, or barbecuing at the park. There are a set of folks who believe that harassment and marginalising people is acceptable.
"It's a shame we've reached a point in our politics where that type of strategy persists."
There is also an ever-present fear of voter suppression, Hatch says, after recent accusations of hundreds of thousands of ballots being improperly purged in Georgia, and a report from the American Civil Liberties Union last month that Florida invalidated more mail-in ballots from black and young voters in 2016 than any other demographic.
"The black community has been targeted historically by a set of folks who are coming up with new and interesting ways," she said. "We're on the lookout for those last-minute shenanigans, telling people to go somewhere they're not meant to vote, misprinting a date, those little cumulative things especially for a set of black voters who aren't regular voters."
While Color of Change has collated its own database of black voters and educated volunteers in how to tell voters what to look out for, Hatch admits: "The biggest fear is we don't find out until after the event."
Orlando voter Travis Hailes, 39, said a feeling of being ignored would drive blacks back to the polls this year. "A lot of the people I speak to tell me they're tired sitting around their TV and feeling angry," he said. "A lot feel the current administration and the people in office now aren't fighting for them, they're fed up on it. A lot of them have already voted, and the sense I'm getting is people are going to turn up."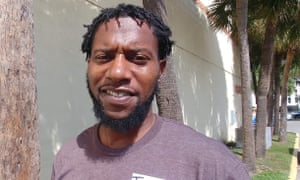 Julie Polk and her daughter Tori, 25, say they switched from independent voters to registered Democrats ahead of the primary to support Gillum. "I'm looking beyond color," Julie said. "He seems honest and truthful and speaks exactly the things he's feeling and what he's trying to change in our community.
"We never wanted to be affiliated with a group but decided together it wasn't helping being independent and not having a voice in elections. There's so much going on with the black community where we feel alienated and pushed out. Knowing people are coming together to believe in what we believe in helps a lot."
Analysts share the view that Gillum's candidacy for governor is a main draw for black voters, but say turnout could be boosted by intriguing congressional races, such as Yvonne Hayes Hinson's challenge to Trump-endorsed Republican Ted Yoho in north-east Florida.
"She is someone who is motivating a lot of African Americans as well," said Sharon Austin, a professor of political science at the University of Florida.
"There are a lot of dynamic candidates, people are happy to see these young progressives who haven't been in politics for a long period of time. That's going to motivate people.