press
CNN Video: The way to win voters is with joy

Too often in the past, black politics in America has focused on black pain. In 2018, we needed to shift our focus from fear and black pain to resiliency and building black power. It's what our community calls black joy.
There is much for us to feel pain about. We have marched to assert that our lives matter, in the face of police violence. We have organized against white supremacy in the White House. We have put our voices into our votes to elect representatives who will work to overcome the glaring disparities in our life expectancy, poverty and education. Voting while black means facing the trauma and reality of living in a country where many don't want us to exist at all.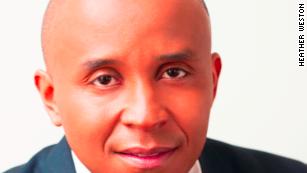 In Georgia, the Republican candidate for governor is also the secretary of state, where he has overseen a voter purge of more than 50,000 mostly black Georgians and a system that literally told a group of elderly black people to get off the bus when they tried to vote. Others face three-hour lines to vote and polling places far from home.
You could hardly blame us for not turning out to vote. And yet it is black voters powering the progressive wave this year.
In December, black women made the difference in the upset election of Doug Jones to the Senate from deep red Alabama. Roughly 56% of Jones' total votes came from black voters, even though we are only 27% of the state's population. Black turnout drove historic victories in this year's primaries in Georgia and Florida, two states with a deep legacy of racism both poised to elect their first black governors in Stacey Abrams and Andrew Gillum, respectively.
Centering black joy is how my organization, Color of Change PAC, has been able to help drive big changes in black voter turnout this year. We organized with partners in Ferguson, Missouri, to help Wesley Bell win the Democratic nomination as the top prosecutor in St. Louis County, and turnout in that township in this year's primary was an incredible 70% higher than it was in 2014, thanks to the efforts of 8,000 local Color of Change PAC members and our partners. In three heavily black precincts we and partners organized in Durham, North Carolina, where turnout had been in the single digits, 17% more voters cast ballots in 2018 than in 2014.
Black joy is about celebrating the power of black people, even as we acknowledge the pain.
Take our election programming: We have held more than 60 "Black Joy" events across the country this year, and by our count, more than 12,000 people have attended. In Atlanta in mid-October, more than 1,200 people turned out to learn how to canvass, share a meal and talk about what's at stake. By Election Day, "Black Joy brunches," cookouts and neighborhood block parties will have generated more than half a million text messages to voters, and 50,000-plus homes visited in black neighborhoods.
This isn't a new idea. When I was young, I would go into the voting booth with my grandfather. He would let me pull the lever for him. I didn't realize until he died he couldn't read or write. He learned about who to vote for by engaging in his church, and talking to folks there about the issues that mattered to them. This approach is community organizing 101, which the Democratic Party has largely forgotten. We have to be there for people 365 days a year, not just when we're trying to win an election.
When we invite people to a "Black Joy" event, we don't start by talking about the issues, we start by talking about community. We talk about building something that's independent and our own, which is what the black community has done for centuries with its churches, its culture and its institutions. When you marry that old-school approach with modern data-targeting techniques, you can bring a new people into the conversation, and they can help change that conversation.
In Los Angeles, a black woman from the suburbs went from avoiding politics altogether to helping us run a sophisticated volunteer recruitment operation. In Michigan, we recruited more than 700 volunteers who have never participated in politics before to join our texting or canvassing campaigns. The woman leading our effort to pass Amendment 4 in Florida, which would re-enfranchise formerly incarcerated people, is formerly incarcerated herself.
These folks aren't motivated by trying to stop something; they are driven by the hope of building something together with other black people.
To be clear, black joy doesn't mean there is an absence of black pain. We live that pain every day. But black joy is how we keep going in the face of it. For example, many organizations ask their volunteers to text voters. But while other organizations encourage people to do it alone, we invite volunteers to text-a-thon parties. Being black and political comes with risks, and any volunteer sending texts on our behalf for an hour is certain to get at least one racist text back. Suffering racism on your own is painful. Suffering it in a community is still painful, but the pain is shared. We pass around the phone. "Can you believe what he called me?" we ask. And then we laugh.
Will black joy be enough to change American politics? It will if we stick with it, and see politics as a way to build power in the face of injustice. It means not just electing the leaders we want, but holding those leaders accountable after the election, work that we're already organizing to do. It means demanding tangible progress on the issues that matter directly to the community, such as mass incarceration, voting rights and economic justice.
Many in the black community weren't shocked by Donald Trump's election. And we weren't surprised to see white supremacy come out of the shadows. But we're not hiding or simply "resisting." We're headed to the polls en masse, and we're going to keep having fun and finding joy getting there.
Originally published at www.cnn.com